DotCom Therapy at Slothower Pediatrics!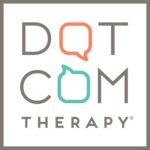 Slothower Pediatrics has partnered with DotCom Therapy to bring mental and behavioral services directly to you. DotCom improves access to quality services by offering therapy via teletherapy in secure, online sessions tailored to you, your child, and/or your family.
Utilizing DotCom Therapy services through our clinic allows for:
reduced and/or eliminated wait times for services
expanded access to specialized care
HI! I am Merry McAloon, LCSW. I have been a licensed clinical social worker for almost 10 years and I am pleased to join the team at Slothower. I believe in creating a connection with my clients, and allowing the clients' needs to drive the treatment. I strive to create a  comfortable, and non-intimidating environment for my clients, with a focus on honest and open communication. I have experience working with clients of all ages on a range of concerns including: anxiety, depression, behavior difficulties, trauma, grief, cognitive impairments, and a range of childhood disorders. I truly enjoy my work in helping others achieve their goals and create positive change in their lives.
If you would like to schedule an appointment with Merry, please contact Slothower Pediatrics at (775) 778-3437.